Hi guys!
Kali ini aku mau share review tentang wewangian favorite ku belakangan ini yaitu, My Burberry Eau de Toilette! Apa sih yang menarik dari EDT yang satu ini? Yuk langsung cek di bawah ini!
Check the English version
HERE
INFO PRODUCT
Blog Label: red
Brand :Burberry
Nama : My Burberry Eau de Toilette
Isi: 90ml & 50ml
Made In : France
Harga : 90ml IDR 1600k | 50ml IDR 1100k (sekitar USD 150 | USD 100)
Harga berdasarkan toko di Indonesia.
Memperkenalkan My Burberry Eau de Toilette yang merupakan keluaran paling terbaru dari line nya My Burberry. My Burberry EDT diciptakan oleh Chief Creative and Chief Executive Officer, Christopher Baily yang bekerja sama dengan perfumer ternama, Francis Kurkdjan. My Buberry EDT merupakan interpretasi dari My Burberry Eau de Parfume yang iconic. Seperti yang mungkin sudah kamu tau, EDP nya sendiri uda ada dari sekitaran tahun 2014 kalau ngga salah dan EDT nya baru launching di pertengahan tahun 2015 lalu.
Fragrance My Burbbery yang terbaru ini terinspirasi dari trench coat nya Burberry yang terkesan semangat, mandiri dan juga elegan. Kamu pasti tau dong, trench coat nya Burberry yang super famous itu, which uda aku impi-impikan tapi belom kesampaian punya hahahaha.
Campaign nya sendiri di ambil di London oleh photographer terkenal, Mario Testino di bawah arahan kreatif Christopher Bailey sendiri. Campaignya ini hadir dengan moder British terkenal, yaitu
Kate Moss
dan
Cara Delevingne
yang menggunakan trench coat kenamaan Burberry.
Nih kalau penasaran sama video campaignya:
KEMASAN & WANGI
Berikut penampakan total dari kemasannya:
Sumpah di mata ku ini parfum cakep abis penampakannya! Hahaha. Simple padahal, tapi kelihatan banget elegan dan luxurious nya. Totally love it! My Burberry EDT ini memiliki kemasan klasik dari botol line nya My Burberry, dengan detail-detail yang merefleksikan trench coatnya si Burberrt ini. Tutup nya dibuat dengan warna gading dan hitam yang merepresentasikan kancing Burberry trench coat yang iconic banget. Plus di lengkapi dengan pita yang diikat secara manual yang melambangkan kain dari trench coat Burberry yang ditemukan oleh Thomas Burberry lebih dari 100 tahun lalu. Apik lah pokonya.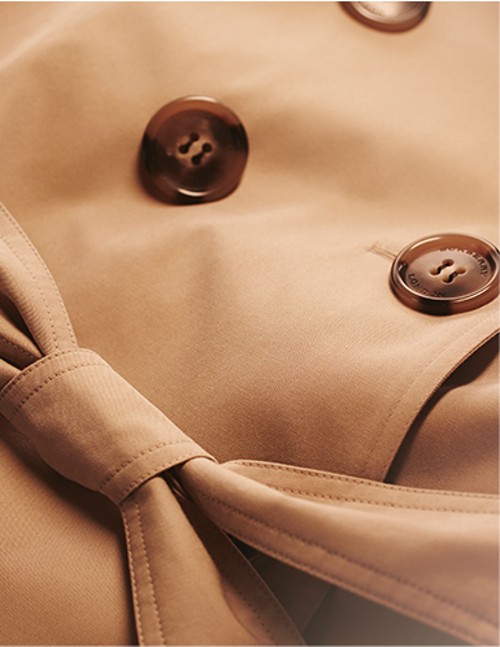 The iconic buttons and fabric.
Anyway, wanginya sendiri itu lebih ke wewangian floral yang menangkap esens dari spring blossom garden yang bercampur dengan wangi mekarnya bunga setelah hujan di London. Untuk top notes nya: sweet pea dan lemon flower. Heart notes: peonies, peach flower dan freesia. Base notes: damask dan centifolia roses, white moss dan musk.
Intinya sih wanginya itu fresh dan elegan menurutku. Terus entah kenapa, somehow pas nyemprot EDT ini emang langsung terpikir tentang London. Ngga tau kenapa dan gimana jelasinnya, tapi tiap nyemprot ini aku mikirnya lagi jalan-jalan di taman di London setelah hujan. Totally a cool feeling. Hahahaha. Well, wewangian itu susah di bayangin, jadi kalau kepo langsung aja visit toko/counter Buberry terdekat dan hirup sendiri hehe.
Kalau kamu suka wewangian yang manis, ini mungkin bakalan kurang cocok di kamu. Tapi au ngga begitu suka wangi yang manis, dan lebih suka floral yang fresh begini, jadi My Burberry EDT ini okeh banget buat ku! Plus, abang dan nyokap juga bilang wanginya enak dan elegan. So biar yakin langsung aja cobain wanginya sendiri, jadi kamu tau ini cocok atau ngga buat kamu hehe.
Rating: 4.5/5
Memang agak mahal, tapi aku sukaaaa semua hal tentang My Burberry EDT ini. Wanginya juga cukup tahan lama! Well, sekarang yang aku butuhin adalah Burberry trench coatnya biar kece macam Cara n Kate Moss hahahhaa ;)
---
Sekian dulu reviewku kali ini dan semoga bermanfaat! See you on my next post!
Love,
Auzola