Hi guys!
Today i want to share a small review of one of my recent favorite fragrance, My Burberry Eau de Toilette! What so nice about it? Check out below!
Lihat postingan dalam Bahasa Indonesia
DI SINI
--------
This is a sponsored post, but all opinions expressed are my own and not influenced in any way.
--------
INFO PRODUCT
Blog Label: red
Brand :Burberry
Name : My Burberry Eau de Toilette
Content: 90ml & 50ml
Made In : France
Price : 90ml IDR 1600k | 50ml IDR 1100k (around USD 150 | USD 100)
Price based on stores in Indonesia.
Introducing My Burberry Eau de Toilette, the latest chapter in the brand's My Burberry fragrance story. Created by Chief Creative and Chief Executive Officer, Christopher Bailey, working in collaboration with perfumer Francis Kurkdjian, My Burberry Eau de Toilette for women is a fresh interpretation of the iconic Eau de Parfum. As you might know, the Eau de Parfum actually already launched since about 2014 (if i'm not mistaken) and on the mid of 2015 they launched the Eau de Toilette version, which i'm about to review.
Bright and uplifting, the new fragrance is as individual and elegant as its inspiration, the Burberry trench coat. You know right, the famous Burberry Trench Coat, which i've been dreaming of having but not lucky enough yet, lol.
The campaign shot in London by photographer Mario Testino, under the creative direction of Christopher Bailey. With British models,
Kate Moss
and
Cara Delevingne
wearing the Heritage trench coats, they surely does capture the effortless spirit of My Burberry campaign.
Here's the video campaign:
PACKAGING & SCENT
Here goes the packaging!
It's soooo beautiful right? Hahaha. The packaging is simple and yet so elegant. Totally love it! My Burberry EDT housed in the classic My Burberry glass bottle, whose overall design reflects the details of the Burberry trench coat. A bold horn-finish stone and black cap echoes its distinctive buttons and the hand-tied stone-coloured Englishwoven gabardine knot made in Castleford, Yorkshire, honours the fabric invented by Thomas Burberry over 100 years ago. The bottle is presented in a stone-coloured box with a gabardine-inspired texture, embossed with a golden knot finish.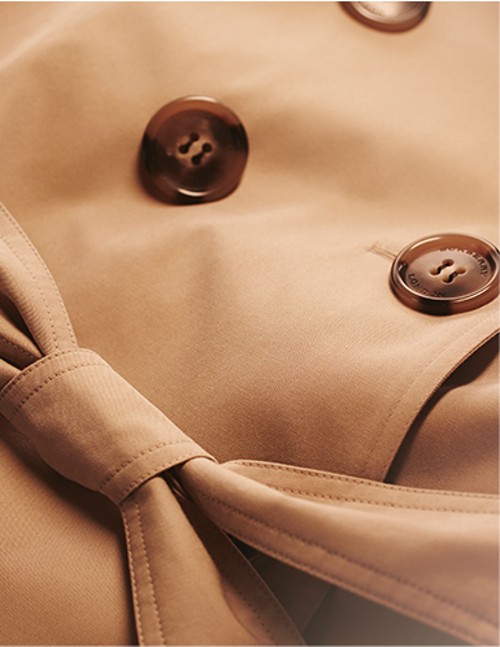 The iconic buttons and fabric.
Anyway the fragrance is a bright grand floral, which captures the essence of a spring blossom garden, with its blend of blooming rain-tipped flowers. The top notes are: sweet pea and lemon flower. Heart notes: peonies, peach flower and freesia. Base notes: damask and centifolia roses, white moss and musk.
Basically the scent is fresh and elegant, plus somehow it does remind me of something like rainy day and totally made me imagine London. I dont know how to describe it well, but it makes me feel like i'm walking around at a nice beautiful garden in London after raining. Totally a cool feeling hahhaha. Scent is hard to imagine, so just go right away to the nearest Burberry store/counter and smell it by yourself!
If you love something sweet, then this is not for you. But this is sooooo nice for me! I don't really like a sweet fragrance, so My Burberry EDT is perfect. Even my brother and mom think this My Burberry EDT smell so nice and elegant. So to make sure whether you're going to like it or not, you gotta smell it by your self, hehehe.
Rating: 4.5/5
It's a bit expensive but i love everything about this fragrance. The scent is also quite long lasting. Now all i need is a Burberry trench coat, hehehe ;)
---
That's all my review for now, i hope you enjoy it! See you on my next post!
Love,
Auzola
--------
This is a sponsored post, but all opinions expressed are my own and not influenced in any way.