Hey guys!
I want to share makeup look that i made as a submission for The Balm ID and polishwonderland.com + Lotte Shopping Avenue MUC few days back. So basically the MUC was to make a makup look inspired by the Balm Voyage packaging. There's about 5 look that you can create based on the ladies in the balm voyage packaging; America - Italy - Australia - Istanbul and Manila.
However, the participant only allowed to create one makeup look, by choosing one of the five country and why you choose it. Sounds like fun right? And the prize was quite a wow! Too bad i didnt win *sobb* hahaha, congrats for the winner though <3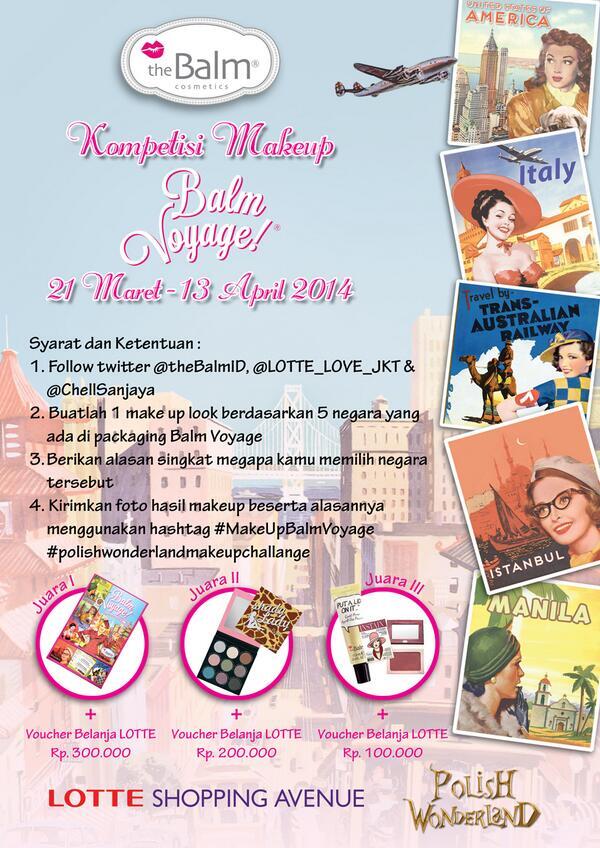 Well, lets just move to the look that i submitted! I decided to make a look based on America look, why? My reason is simple though, i like american pinup girl look, simple and yet so sophisticated plus elegant! Hahaha. I really want to go out as a pin up girl once in a while, but the dress is quite expensive for me (or it's just me seeing the expensive clothing line, im not sure), and yeah i dont really have the hair to do it, you know my hair is a straight one, not even wavy. I need a lot of styling gel or hair spray to make my hair pretty curly like pin up girl (event the permanent perm only last less than 1 months on my hair) or at least i need a good wig. Hehehe. So that's my reason, lets move to the look!
Here's my creation ~
Simple eye makeup consist of gold and brown, plus red lips to make it perfect! hehe, you wont need much when you use red lips. So here's the tutorial for the eye makeup, im using eyeshadow palette the balm Nude 'tude:
1. Prime your lid
2. Apply 'Snobby' all over your eyelid
3. Apply 'Selfish' on your crease and blend it well
4. Apply 'Sophisticated' on your outer lid and half your crease and blend it
5. Put on your eyeliner, make it winged. I used MUA Fashion Mogul Gel Liner. I also apply a bit eyeliner to the outer of my below eyeline to make my eyes look a bit bigger.
6. Apply your mascara for upper and bellow lashes, I used Maybelline Volum' Express Turbo Boost. After that put on you false lashes, i used D'eyeko Super Full 137.
And you're done! Just put on your red lips! You're ready to go hahaha ;)
Product Used:
Face:
-Makeover Corrective Base Makeup - 02 Greenish
-Sariayu Foundation - Kuning Langsat
-Sariayu Loose Powder - Kuning langsat
-Makeover Face Contour Kit
-The Balm Instain - Swiss Dot
Eyes:
-Viva Eye Base Gel
-The Balm Nude 'tude
-MUA Secret Fashion Gel Liner - Black Fashion Mogul
-Maybelline Volum Express Turbo Boost Mascara
-D'eyeko Premium False Eyelashes - Super Full 137
-Contact Lens Exoticon Ice No.1 - Sky Blue
Lips:
Maybelline Color Sensational - Red Revival 645
--
Tadaaa! That's all! And oh, i used wig in this pic, because there's no possible way i suddenly turn curly and short hair hahhaa. I hope this tutorial can help you if you want to make a vintage pin up look :D
Thanks for stopping by!
Love,
Auzola