Hey girls!
I want to share another makeup look and also tutorial! Actually this i made this look months ago when i participated in Revlon MUC makeup like Gwen Stacy, well too bad i didnt win. But rather waste my hard work, i guess im going to post it now! (Actually i've been wanting to write this before the MUC ended, but oh well, better late than never hehe).
So, just like the theme, i have to create a makeup look inspired by Gwen Stacy in the Amazing Spiderman (a.k.a Emma Stone). As the reference, Revlon gave 2 pictures of Emma as Gwen Stacy, which one is a day look and the other is a night look.
This is Gwen Stacy's day look: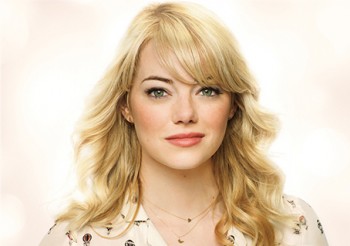 And this is Gwen Stacy's night look:
I decided to create the day look, since it looks fresh (im bored with too heavy eyeliner back then hehe). Unfortunately i dont have the wig, so yeah it was just the makeup haha. And i didnt use Revlon makeup in this look (except for the Lipstick), because i only got the Revlon lipstick back then. My mom allergy to Revlon and so does my grandmother, so she never want to buy me a Revlon products since she thinks 90% chances that im allergic too. But, yeah i bought one of Revlon lipstick because i was curious. Thankfully, no allergy symptom occurred from that lipstick usage.
But because i was in a hurry, i dont have time to buy any revlon products before making this look, so yeah i used other products hahaha. But i think it was okay because there was no rule that we only able to use Revlon or not.
So, this was my creation, hahhaha of course nothing like the pretty Emma Stone but im trying to match the makeup :P
I kinda regret that i put my pink blush instead of the peach one, but oh well whatever. I have no lipstick that match Emma's lipstick in the picture, so i mixed my Revlon with my Maybelline, at least the pink looked nice hahha.
How to achieve this look is quite easy actually. I dont have picture for the face tutorial, so let me just elaborate here. First i primed my face, then i put on my foundation evenly throughout my entire face and neck. I added loose powder to secure the foundation and move on with shading my cheek and also my nose. After that i just simple put quite a lot of blush on to make my cheek fresh and alive. And i secured it once again with my loose powder for the last touch. Simple right :)
As for the eye makeup, i have a pictorial for you guys! I used eyeshadow palette from the Balm Nude 'tude to achieve this natural eye makeup.
Steps:
1. Prime your entire eyelids and apply 'Sultry' in your lid.
2. Applyy 'Stand-offish' all over your eye lid and to your inner v of the eyes as well.
3. Put on some 'Seductive' on your crease and blend it up well.
4. Add a bit of 'Sophisticated' on your outer v and blend it a bit to your crease and lid.
5. Put on your eyeliner and draw classic bar type (no wing)
6. Also put a bit of the liner on your outer lash line and waterline (about half of your each eye), then put on some white liner on the other half of your waterline.
Last touch, put on some mascara and your natural false lashes of choice and you're Done!
It's super simple and easy right!
Now some more pictures!
Product Used:
Face:
-Makeover Corrective Base Makeup - 02 Greenish
-Sariayu Foundation - Kuning Langsat
-Sariayu Loose Powder - Kuning langsat
-Makeover Face Contour Kit
-NYX Blush - PB28 Bourgeois Pig
Eyes:
-Viva Eye Base Gel
-The Balm Nude 'tude
-MUA Secret Fashion Gel Liner - Black Fashion Mogul
-Maybelline Volum Express Turbo Boost Mascara
-D'eyesee False Lashes - 4092
-Omega Funky Tones Contact Lens - Grey
Lips:
-Revlon ColorStay - Ultimate Suede
-Maybelline Watershine Pure - P12
--
Thats all! I hope you like and enjoy reading this post!
Love,
Auzola